SAVE $100.00 WHEN YOU ORDER IN THE NEXT:
You might be ready for the Career Advancement Toolkit!  
An exclusive suite of resources for quickly landing your dream job.
Templates, guides, instructions, examples and checklists to ensure you'll secure your next job offer.  
Laura K.
"I applied for a job at 1:39 pm and got a call back for an interview at 2:02 pm (23 minutes later!)"
Don't miss out on this one-time special offer!
For the next 60 minutes, SAVE $80 on The Career Advancement Toolkit!

You'll get everything you need to reach your career goals. Now is the time to land your dream job and grow in a field you love!
Users of the techniques and templates found in the Career Advancement Toolkit have landed jobs with these amazing companies: The Career Advancement Toolkit contains everything you need to quickly land your dream job.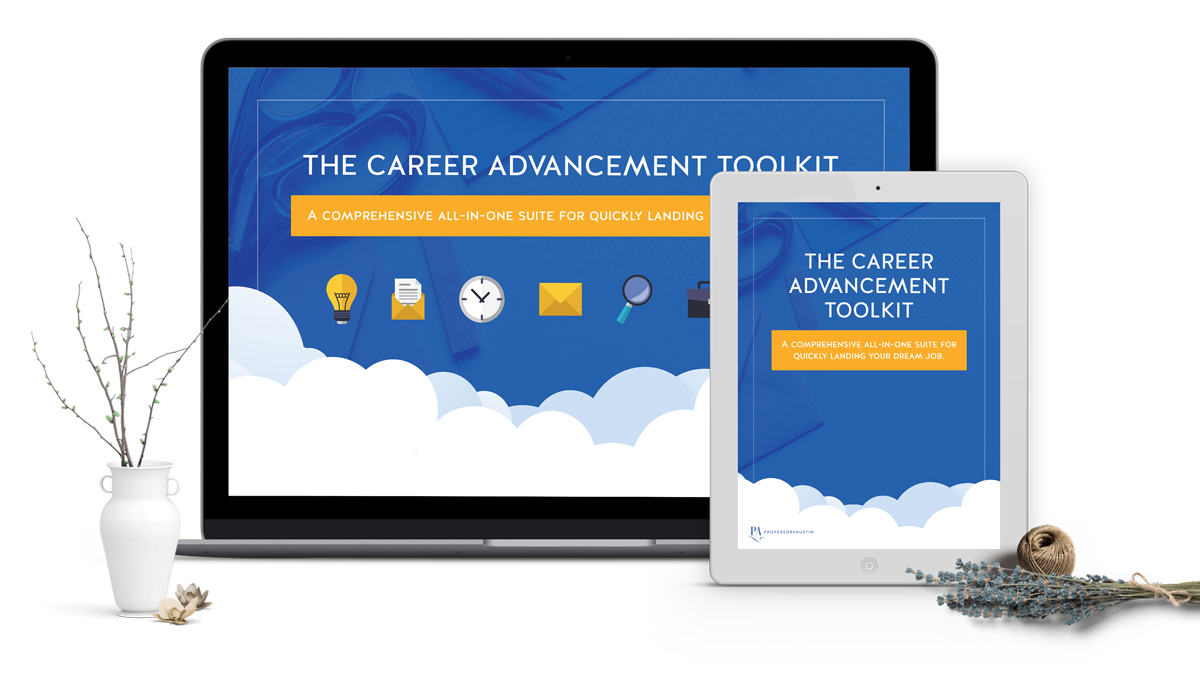 Guide to the Perfect Cover Letter
A quick reference guide to help you create and distribute a cover letter that get's noticed.
Professional Cover Letter Example
Find out what your competitors are doing by reviewing a professionally structured cover letter example.
Professional Resume Example
Learn the essential parts of a 21st Century professional resume and what other's are doing to stand out.

Executive Resume Template
Two-page resume template that is clean and easy-to-use
Application Follow up Email Template
Haven't heard back after applying for your dream job? Find out how to follow-up and secure a job interview.
Executive Cover Letter Template
Proven cover letter template that does the thinking for you.
Phone Interview Follow up Email Template
Just finished your phone interview? Use the exact follow-up method that has worked for many of my other clients.
Reference Sheet Template
User-friendly template for your most important references.
Interview Follow up Email Template
Had the most amazing interview for a job you can't wait to start? Find out how to follow up to get the salary you deserve.
Resignation Letter Template
You're getting a new job…leave your current job with class.
Job Rejection Follow up Email Template
Just heard that you weren't selected for your dream job? Learn how you can respond so that the doors stay open.
You'll also get these EXCLUSIVE BONUSES!
BONUS #1
Special Formula
My special formula for writing the perfect LinkedIn headline + 10 TOP LinkedIn Headline Examples.
BONUS #2
LinkedIn Summary Template
An easy-to-use template for writing your own ultimate LinkedIn Summary.
BONUS #3
How to Survive the Job Search
 A step-by-step resource guide to help keep you motivated and energized while job searching.
Here's what others are saying…
Lakiah Washington
"Before working with Heather, my biggest challenge was thinking I did not have the skill or ability to find a job that I would truly enjoy. Because of Heather's positive attitude and reassuring nature about my future, I increased my confidence and developed a positive mindset in the areas of career and business."
"One of my favorite parts about working with Heather was the action steps we created together after each of our sessions. I have definitely improved my self-esteem in the area of job hunting. If you need help with your career, I encourage you to reach out to Heather. She is a great career coach and will assist you in finding a job."
Jerry Coots
"I can't tell you how glad I am that I found Heather on YouTube. She does such wonderful things to help people!  I feel much more confident and set for success, thanks to Heather!  She has been a pure joy to work with and I will certainly be recommending her to anyone I meet."
Ellen Barton
Hi Heather. Just wanted to thank you for your assistance. Somehow I stumbled across you on LinkedIn and your advice was immeasurably helpful.  I start my new job on Monday and I'm super excited about the opportunity. I have recommended you to others. Thank you for pointing me in the right direction and good luck in all you do
GET THE Career Advancement toolkit FOR only 
$197.00
$147
'm the creator of World-Class Career Academy and the Career Advancement Toolkit. Over the past 14 years, I've taught thousands of clients and students how to build their personal brand so they can land their dream job and succeed in the marketplace.
With a background in hiring, teaching and career development, I'm here to help you save time and eliminate the frustration of your job search. I'm obsessed with all things career related! Including job search strategies, resume writing, LinkedIn profile optimization and interview tactics.
My #1 goal is to help you find a career that brings you true happiness and fulfillment. On my downtime, I enjoy movie nights with my kids and group fitness classes at my local gym.
SAVE $100.00 WHEN YOU ORDER IN THE NEXT: