How to Write a Resume that Lands you More Interviews and Better Job Offers
With Heather Austin from ProfessorAustin.com
During this FREE masterclass you'll learn:
The top 5 resume mistakes you're making and how to fix them.
How to build a clean, concise resume that is applicant tracking system (ATS) compliant.
How to write an attention-grabbing resume summary that hits employer-specific pain points.
How to quickly customize your resume to fit almost any job (regardless of your experience level).
How to write achievement statements that showcase your skills and expertise.
INSTANT ACCESS + Q&A SESSION AT THE END
You bet!! This is a pre-recorded training. You'll have INSTANT ACCESS. Learn how to build a resume that lands you a job where you're thriving and getting paid what you deserve.
RECEIVED 3 JOB OFFERS!
"Thank you for all your help. I'm in my second year of college and have been looking for internships. Thanks to your resume advise, I have three offers already."
~T'nai L.
LOVES THE EASY TO USE TEMPLATE!
"Thank you so much for your resume template. I have looked at several and yours has the best format. It's clean, it's easy to read and use."
~Melodie S.
GOOD FOR THE NEXT 10 YEARS!
"Wow, you provide so much value in your videos! Thank you! This will help people for at least the next 10 years."
~Carlos C.
STRUGGLED FOR DAYS TO WRITE A RESUME!
"Wow…wish I saw this a couple of months ago when I was struggling for days to write a resume. Now I can update it so it looks professional. Thank you."
~Rachel B.
SPENT DAYS & WEEKS LOOKING AT RESUMES!
"Hi Heather, I spent days….weeks, looking at resumes and online advice and I was overwhelmed. I finally went to YouTube and found your resume and I am using it for formatting and ideas. It's been a big help and I'm almost done and ready to post on job sites and apply for a couple specific jobs I'm interested in. Thank you so much."
~Mary F.
Hi! I'm Heather Austin. The creator of  World-Class Career Academy™ and the Career Advancement Toolkit™. Over the past 13 years, I've taught thousands of clients and students how to build their personal brand so they can land their dream job and succeed in the marketplace.
I'm most passionate about seeing you excited to get out of bed in the morning. Knowing that you're making a greater impact in your industry. What's unique about what I do is the process I use to help my clients build confidence to achieve their career goals.
I'm obsessed with all things career related! Including job search strategies, resume writing, LinkedIn profile optimization and interview tactics. My #1 goal is to help you find a career that brings you true happiness and fulfillment. On my downtime, I enjoy movie nights with my kids and group fitness classes at my local gym.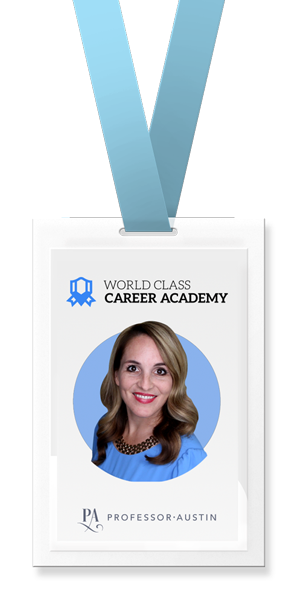 How to Write a Resume that Lands you More Interviews and Better Job Offers
We promise not to ever share your email with anyone or send you any spam!