Don't worry! The Career Advancement Toolkit™ is still available.
Templates, guides, instructions, examples and video lessons to ensure you secure your next job offer. Apply and interview with confidence!
The Career Advancement Toolkit™ is an exclusive suite of resources for job seekers that want to see MASSIVE success landing more interviews and better job offers. Now is your time to get unstuck in your career for good! 
GOT AN INTERVIEW CALL BACK IN 23 MINUTES!
"I applied for a job at 1:39 pm and got a call back for an interview at 2:02 pm (23 minutes later!)"
~ Laura K. (Senior Business Analyst)
Join hundreds of HAPPY job seekers!
LANDED A JOB WITH A TOP 20 EMPLOYER IN CANADA!
"Thank you, Professor Austin! Your career resources really helped me in my quest to find a permanent job! My biggest accomplishment is finding a permanent job with a great salary and excellent benefits with a top 20 employer here in Canada!!"
~Keisha M. (Retention Specialist)
BUILT A KNOCKOUT RESUME!
"My resume has come a VERY long way. And it's all because of the Career Advancement Toolkit, your videos, templates, training and classes! Believe me, without you it wouldn't look like it does. Thank you a thousand times over!!"
~Cassandra S. (Compliance Specialist)
STOP wasting time submitting online applications that go NOWHERE!
Reach your career goals using the same tools that have helped thousands of job seekers land the job they REALLY wanted!
For a limited-time, The Career Advancement Toolkit™ is yours for
$127
$197.00
WHAT'S INCLUDED:
10 "Done-For-You" Templates ($69 value)
Professionally designed and written templates for every step in your job search process.
3 BONUS Video Lessons ($27 value)
Learn EXACTLY how to use the toolkit to land your next job with confidence and ease.
The Perfect Cover Letter How to Guide ($27 value)
Create a compelling cover letter that tells your true career story and shows why you are the best candidate for the job.
LinkedIn Profile Essentials Starter Pack ($27 value)
My special formula for writing the perfect LinkedIn headline and an easy-to-use template for writing your ultimate LinkedIn summary.
Ultimate Guide to Surviving your Job Search ($17 value)
Actionable printable workbook with in-depth instructions to help keep you motivated and energized while job searching.
The Career Advancement Toolkit™ contains everything you need to quickly land your dream job.
Professional Executive Resume Template
Ditch your old resume format and jump into the 21st century with this new professional executive resume template. Finally land more interviews!
Professional Cover Letter Template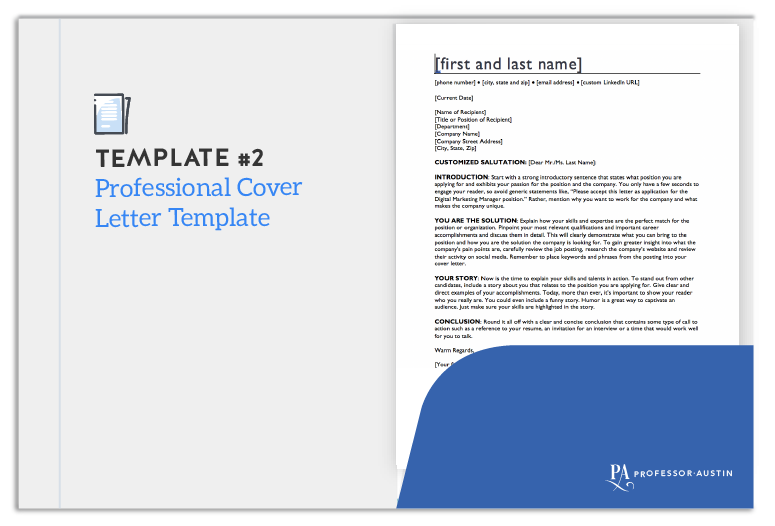 Your cover letter is your mini sales presentation. Use this professional cover letter template to tell your career story and land better job offers!
Application Follow Up Template
Haven't heard back after applying for your dream job? Use this follow-up template to let them know you're still interested and secure a job interview.
In-Person Interview Follow Up Template
Had the most amazing interview for a job you can't wait to start? Follow up within 24 hours using this template to secure the salary you deserve.
Interview Follow Up Template (1 Week)
Already followed up once after your interview? Use this template to follow up for a second time within one week if the hiring process is stalled.
Job Rejection Follow Up Template
Just heard that you weren't selected for your dream job? Use this template to keep the doors opens and be considered for other positions.
Phone Interview Follow Up Template
Just finished your phone interview? Use this exact follow-up template to land the next round of interviews.
Professional Reference Sheet Template
Make it easy for your future employer to get in touch with your references by using this impressive reference sheet template.
Resignation Letter Template
Just landed your new job? Don't burn any bridges. Use this resignation letter template to quit your old job with class.
Everything you need to reach your career goals.
Now is the time for you to grow in a field you love!
DON'T FORGET THESE EXCLUSIVE BONUSES!!!
LinkedIn Profile Essentials Starter Pack (value $27)
Easy-to-use exercises, examples, templates and formulas to help you stand and out get noticed on LinkedIn. Don't let a lousy LinkedIn profile hold you back anymore.
The Perfect Cover Letter How To Guide (value $27)
Not convinced you need a cover letter to land your next job? The Perfect Cover Letter How To Guide will show you how to write a cover letter that helps you command a higher salary.
The Ultimate Guide To Surviving Your Job Search (value $17)
Feeling defeated and frustrated by your job search? This step-by-step resource guide will help keep you motivated and energized while job searching.
The Career Advancement Toolkit™!
3 BONUS VIDEO LESSONS (value $27)
How to use the Career Advancement Toolkit
How to use the template pack to streamline your job search
How to use the BONUSES inside the toolkit
Real People. Real Results.
LANDED A BIG INTERVIEW!
"The toolkit has been a game changer. I have a big interview coming up this week, one that I really wanted! Absolutely would not have gotten it without the toolkit and Heather's videos!
~Erin C. (Holistic Health Coach)
STARTING A NEW JOB!
"Hi Heather. Just wanted to thank you for your assistance. Somehow I stumbled across you on LinkedIn and your advice was immeasurably helpful. I start my new job on Monday and I'm super excited about the opportunity. I have recommended you to others. Thank you for pointing me in the right direction and good luck in all you do"
~ Ellen Barton
LANDED AN INTERVIEW IN ONE DAY
"I managed to get one quite lengthy application completed in a day and I now have an interview for that role. I'm now also being paired up with jobs on LinkedIn that are much better suited to me. I am gobsmacked how much of a difference the Career Advancement Toolkit has made."
~Charlotte R. (Manchester, England)
I'm the creator of World-Class Career Academy™ and the Career Advancement Toolkit™. Over the past 13 years, I've taught thousands of clients and students how to build their personal brand so they can land their dream job and succeed in the marketplace.
With a background in hiring, teaching and career development, I'm here to help you save time and eliminate the frustration of your job search. I'm obsessed with all things career-related! Including job search strategies, resume writing, LinkedIn profile optimization, and interview tactics.
My #1 goal is to help you find a career that brings you true happiness and fulfillment. On my downtime, I enjoy movie nights with my kids and group fitness classes at my local gym.