THE 5-PART FORMULA TO MAKE YOUR RESUME A SUCCESS
With Professor Heather Austin
INSTANT ACCESS + Q&A session at the end
The TOP 5 mistakes almost EVERYONE makes (and how to fix them).
The SECRET STRATEGY for highlighting your MOST relevant accomplishments on your resume and ditching the rest.
A PROVEN METHOD for tailoring your resume to almost any position (even if you have little work experience).
The 4-PART FRAMEWORK to transform your resume from wordy and confusing to interesting and engaging.
A SIMPLE TECHNIQUE to format your resume to hold your reader's attention for longer than six seconds.
Yep!! This is a pre-recorded training. You'll have INSTANT ACCESS. Learn how to build a resume that lands you a job where you're thriving and getting paid what you deserve.
Hi there! I'm Heather! I'm the creator of World-Class Career Academy and the Career Advancement Toolkit. Over the past 13 years, I've taught thousands of clients and students how to build their personal brand so they can land their dream job and grow in a field they love.
With a background in hiring, teaching and career development, I'm here to help you save time and eliminate the frustration of your job search.
I'm obsessed with all things career related! Including job search strategies, resume writing, LinkedIn profile optimization and interview tactics. My #1 goal is to help you find a career that brings you true happiness and fulfillment. On my downtime, I enjoy movie nights with my kids and group fitness classes at my local gym.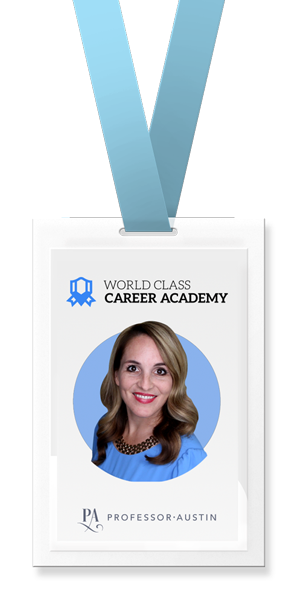 THE 5-PART FORMULA TO MAKE YOUR RESUME A SUCCESS
Enter your name and BEST email address below to register for the workshop right now… It's 100% FREE!